Home
This is the web presence for musician Brian Baggett – composer, and Chapman Stick performer based in the Qu'Appelle valley of Saskatchewan, Canada. Brian provides unique instrumental music for art openings, weddings, restaurants, private shows, or any occasion.
NEWS:
December 21, 2017: A release date has not yet been set for Brian's upcoming album, but he's aiming towards late Spring 2018. Stay tuned and thank you all for your support!
June 7, 2017: Brian is performing three times at the Regina Jazz Festival: Wednesday June 14 at City Square Plaza Stage – Victoria Park @ Cornwall St. (10:15-11:30a); Thursday June 15 at FW Hill Mall – aka Scarth Street Stage (1p-2:15p); Friday June 16 at Hill Tower II – Good Earth Coffee - 1881 Scarth St (11:45a-1p). See Regina Jazz Fest free stage schedule for tons of music.
November 30, 2016: First Contact is at #11 in Earshot Magazine's Top 20 Jazz recordings for October 2016! Thanks to all the stations (CILU Thunder Bay, CJSR – Edmonton, others?) who have contributed!
November 16, 2016: Brian's new Album First Contact has made the Canadian Campus and Community radio charts:
- #1 Jazz Album (CJSR – Edmonton September 27, 2016),
- #2 Jazz (CILU – Thunder Bay October 11, 2016)
- and in the Canadian Top 20 Jazz albums for September 2016 at #12.
Thanks to all who listen and support these stations!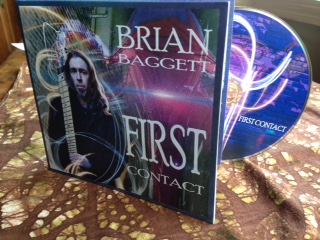 June 30, 2016: Brian Baggett's First Contact is now available. Download and CD purchase available at Brian's Bandcamp page. Or send $15 (Canadian) via Paypal to baggetthouse AT gmail DOT com -
June 19, 2016: Video performance of "First Contact/Blue Ridge" now available. From the upcoming CD First Contact

June 9, 2016: Brian's Soundcloud page is now available. Three tracks from 'First Contact' are also available on the 'music' page

May 30, 2016: "Pain Free"…the second of three video releases for 'First Contact' is now available.
May 20, 2016: "1995″…from the upcoming album First Contact