Home
This is the web presence for musician Brian Baggett – composer, and Chapman Stick performer based in the Qu'Appelle valley of Saskatchewan, Canada. Brian provides unique instrumental music for art openings, weddings, restaurants, private shows, or any occasion.
***
New animated video for Travel Past The Aftermath, created by Brian's 13-year old daughter Emora Baggett
***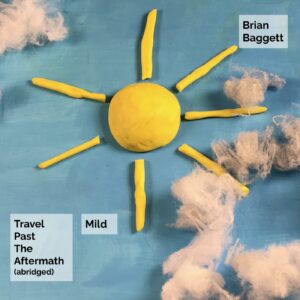 May 6, 2022: Single release. "Travel Past The Aftermath (abridged)" [Baggett] paired with B-side "Mild" [Jakob Bro].
Travel Past The Aftermath is the title track to a future full length album.
This edited version is the soundtrack for the short animated film "Growth", created by Brian's 13-year old daughter for INSPIRE 2022, the yearly flagship event for passion2action – a Regina, Saskatchewan non-profit serving the leadership potential of Saskatchewan's young people, the leaders of the future, today.
Mild, by Danish guitarist/ECM recording artist Jakob Bro
***

Let Nothing You Dismay is now available on Bandcamp and Spotify. This 5-song holiday EP is Brian's 4th album. Featuring solo jazz renditions and ambient, looping soundscapes of classic Christmas carols, plus one modern classic from Guaraldi's "A Charlie Brown Christmas".
***
Brian's 12 year old daughter created this claymation music video to the track Shchedryck (Ukrainian Folk Chant) from the EP Let Nothing You Dismay.
***
Brian was recently featured on SaskTel Max TV's artist profile series for both his Chapman Stick playing and wood working.
***
Classical Gas (Mason Williams) – "Really interesting unique version!…thanks for a great exploration of the tune!" (Mason Williams – Sept 2018).

***
Video for America/My Favorite Things, from the album Bookmarks (2018)

***
"We're Where We Were" from the album Bookmarks (2018) – Video from The Empty Room Series by Creative City Centre in Regina, Saskatchewan